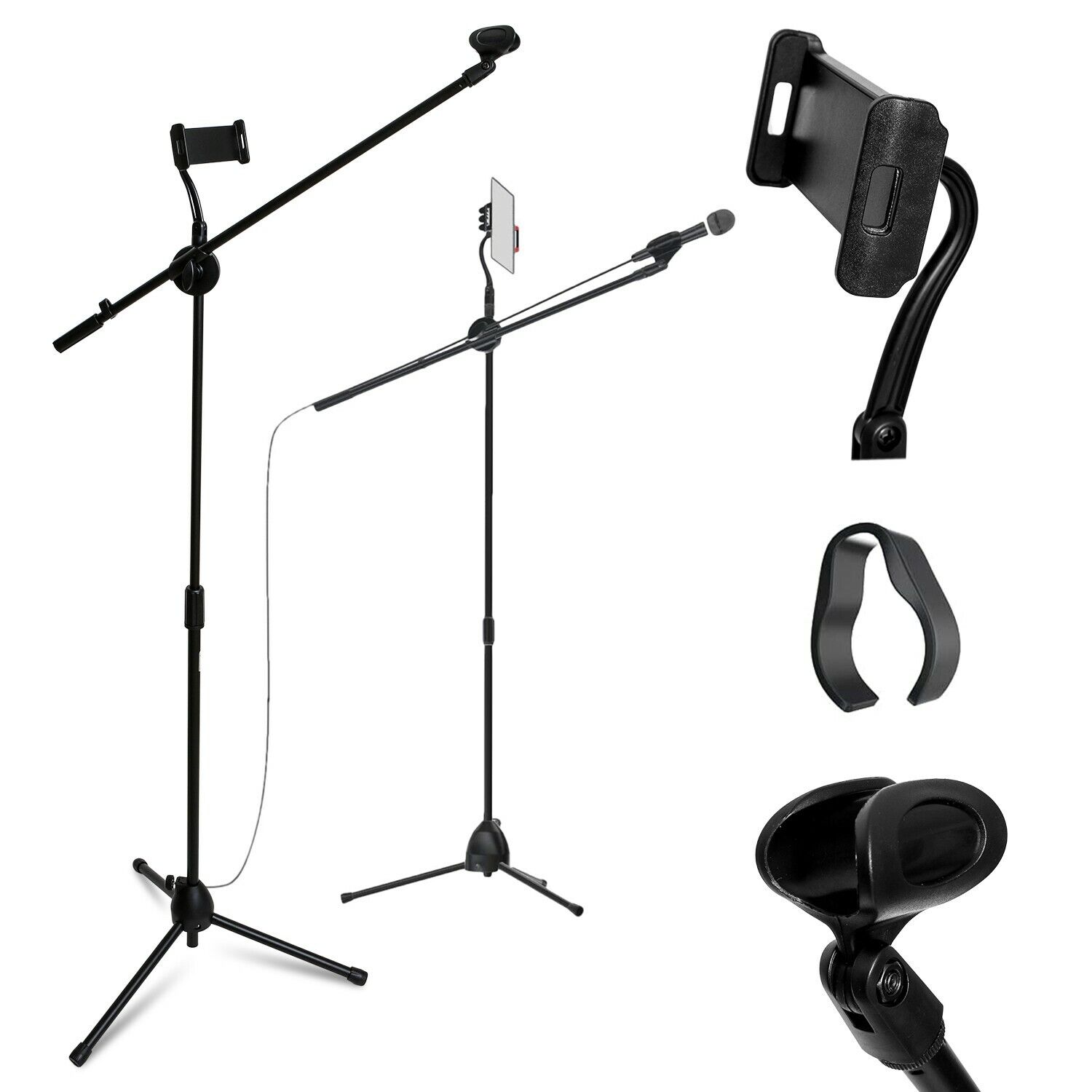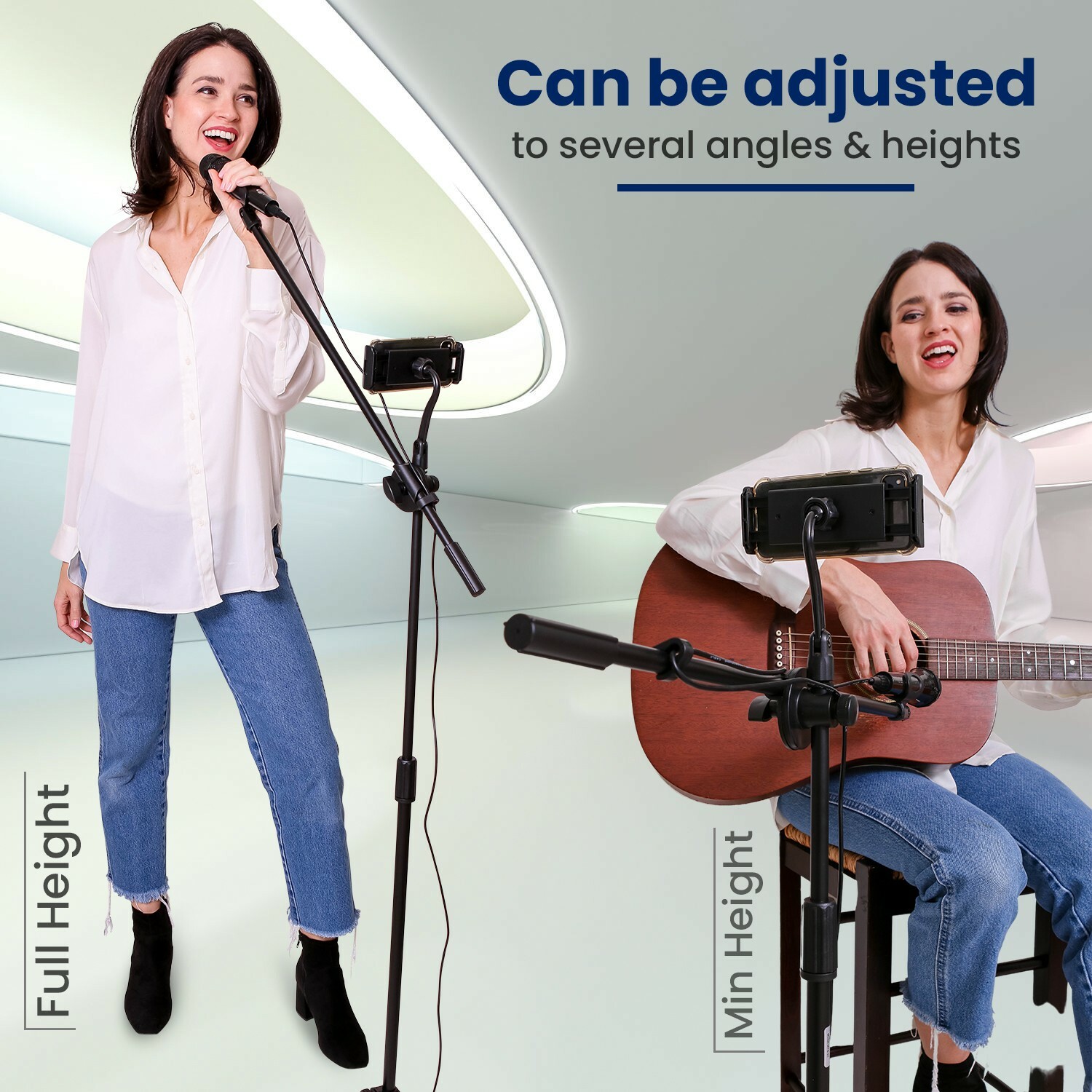 Microphone and phone/tablet holder tripod Stand by Qaise
Optimal Solution: The QAISE microphone stands were designed for those who need a bit of extra support while playing an instrument, holding a speech, singing, or rehearsing. The mic stand phone holder is lightweight and sturdy, as well as durable and long-lasting. The special boom base can be folded, while the tripod legs have a secure anti-slip rubber base.
Double Holder Design: This mic holder comes with a built-in phone or tablet holder that allows you to sing, speak, or play an instrument while also checking your personal notes or score.
Easy to Adjust: Our mic stand holder has a telescopic design that can be adjusted anywhere between 3-5 ft.  You can also set the most comfortable viewing angle for your height, ensuring clear and comfortable viewing.
Universal Use: This microphone holder is great for parties, events, studios, karaoke bars, and even home use! Because it features a mic and a tablet holder, the floor microphone stand is a great solution for rehearsals or speeches.
Wide Compatibility: The microphone stand mic clip and tablet holder feature a special clip design that is fully adjustable, so you can use it with a wide range of phones or tablets to read your notes with ease.
At QAISE, we put your happiness above all else. That is why we have chosen to work with carefully selected materials and innovative manufacturing technologies that allow us to develop premium products that make your life easier. Our microphone tripod with tablet stand features a 2-in-1 design that allows you to speak, play an instrument, or sing in the mic hands-free while also checking your notes or score.
What makes our product special?
This flexible microphone stand is a must-have on any stage. Featuring a fully adjustable design, this tripod microphone stand with boom allows you to fix the height and viewing angle of both the mic and the tablet, ensuring better visibility for all people. The special tripod design is stable and secure, having special rubber feet for an anti-slip effect.
Some features to keep in mind about our product:
Height adjustment from 3-5 ft (30-60-inch);
Color: black;
Adjustable tablet/phone holder;
Tripod base with anti-slip rubber feet;
Made of durable materials;
Easy to install;
Foldable and compact design;
Ideal for singing, playing instruments, and talking on a mic;
Adjustable phone holder compatible with most smartphones and tablets;
Angle adjustability for better viewing;
Suitable for most microphones.
Get your microphone stand with tablet holder now!
About us
For over a Decade Qaise® has been a leading brand in Consumer Electronics. Our products are enjoyed by professionals and amateurs. We take pride in our quality and customer service and our promise is to 100% satisfy our clients.
We guarantee the safety, security & privacy of your valuables
Featured Categories
Payment
We accept PayPal, and all major credit cards and debit cards. Please message us for details if needed.
Shipping
Handling time: 1-2 days
Shipping Services:
Fedex Ground for items over 5 lbs
USPS for items under 5 lbs
Returns
Your Order Return Rights:
You are entitled to cancel/return Your Order within 30 days without giving any reason for doing so.
The deadline for cancelling an Order is 30 days from the date on which You received the Goods or on which a third party you have appointed, who is not the carrier, takes possession of the product delivered.
In order to exercise Your right of cancellation, You must inform Us of your decision by means of a clear statement. You can inform us of your decision at: Contact@qaise-usa.com
We will reimburse You no later than 14 days from the day on which We receive the returned Goods. We will use the same means of payment as You used for the Order, and You will not incur any fees for such reimbursement.
Conditions for Returns:
In order for the Goods to be eligible for a return, please make sure that:
- The Goods were purchased in the last 30 days
- The Goods are in the original packaging
- The Goods are not used or damaged
We reserve the right to refuse returns of any merchandise that does not meet the above return conditions in our sole discretion. Only regular priced Goods may be refunded. Unfortunately, Goods on sale cannot be refunded.